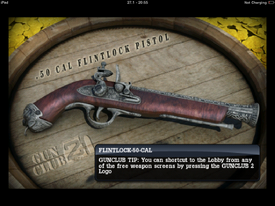 The .50 Cal Flintlock Pistol is a weapon included in the
Base Set
of the
Gun Club 2
, it was released as the free weapon in the
Pirate Pack
Flintlock pistols were used as self-defense weapons and as a military arm. Their effective range was short, and they were frequently used as an adjunct to a sword or cutlass. Pistols were usually smoothbore although some rifled pistols were produced.
Ad blocker interference detected!
Wikia is a free-to-use site that makes money from advertising. We have a modified experience for viewers using ad blockers

Wikia is not accessible if you've made further modifications. Remove the custom ad blocker rule(s) and the page will load as expected.