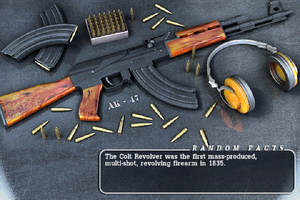 The AK-47 (Avtomat Kalashnikova 1947) assault rifle is part of the Base Set of weapons included in Gun Club 2. The weapon is used by militaries around the world because of its reliability and power. It can be used throughout the toughest of conditions and still be 100% functional during combat.
This assault rifle was designed by Mikhail Timofeevich Kalashnikov (a former Soviet sergeant) after WWII. It fires the 7.62x39mm round and has much more stopping power than the M16, but lacks in accuracy. The AK-47 has a rate of fire of 600 rounds per minute and has an effective range of around 375 meters.
Ad blocker interference detected!
Wikia is a free-to-use site that makes money from advertising. We have a modified experience for viewers using ad blockers

Wikia is not accessible if you've made further modifications. Remove the custom ad blocker rule(s) and the page will load as expected.