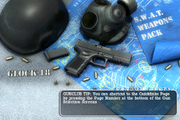 Introduction
Edit
The Glock 18 is an Austrian made pistol which is free with the Base Set of Gun Club 2. It was released as a free weapon at the same time as the SWAT Pack update, therefore it has a SWAT themed loading screen.
Interactivity
Edit
Firemode selector for switching between semi and fully automatic fire
Trigger
Slide
Slide lock/release
Usual Gun Club features including Slow Motion and Unlimited Ammo.
Attachments
Edit
The Glock 18 has one attachment, the XT-120 - a torch - which attaches to the bottom rail in front of the trigger guard. The XT-120 can be enabled in the accessories panel.
There are 2 known bugs for the Glock 18.
Shaking device while firing in fully automatic mode causes fire rate to rise considerably (iDevices)
The slide lock can be temperamental and sometimes will not release the slide properly, consequently the user will then have to manually chamber another round. (iDevices)
Ad blocker interference detected!
Wikia is a free-to-use site that makes money from advertising. We have a modified experience for viewers using ad blockers

Wikia is not accessible if you've made further modifications. Remove the custom ad blocker rule(s) and the page will load as expected.