Introduction
Edit
The HK416 is an assault rifle featured in the Gun Club 2 Spec-Ops Pack.
Interactivity
Edit
Working charging handle to cycle the bolt.
Ambidextrous firemode selector for safe, semi and fully automatic fire.
Adjustable stock.
Manual reloading.
Adjustable barrel length.
Usual Gun Club features including Slow Motion and Unlimited Ammo.
Attachments
Edit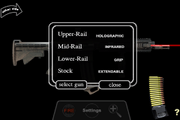 The HK416 has an array of attachments which are usable via the options menu. Attachments can be attached to the upper, mid and lower rails and the stock can be changed.
Table of attachable accessories:
| | | | |
| --- | --- | --- | --- |
| Upper Rail | Mid Rail | Lower Rail | Stock |
| Reflex Sight | Infrared | Grip | Extendable |
| Holographic Sight | Torch | M203 Grenade Launcher | Fixed |
| Scope | Infrared and torch | Nothing | n/a |
| Nothing (ironsights) | Nothing | n/a | n/a |
Ad blocker interference detected!
Wikia is a free-to-use site that makes money from advertising. We have a modified experience for viewers using ad blockers

Wikia is not accessible if you've made further modifications. Remove the custom ad blocker rule(s) and the page will load as expected.