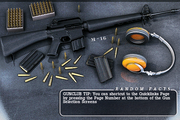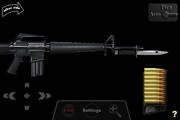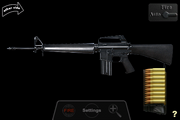 There are two M16 Variants in the App:
The M16A2 and the M16A4
The M16A2 Assault Rifle is included in the
Base Set
of weapons in
Gun Club 2
. It's chambered in 5.56x45 NATO and uses a 20-round STANAG magazine.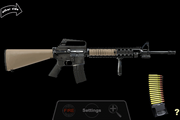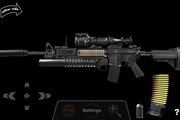 It has recently been updated with a manual reload.
Attachments
Edit
The M16A2 can be fitted with only one attachment:
The M16A4 was added to the app with the SAS Weapon Pack.
It features multiple attachments, unlike the A2 variant in the app, it has a 30 round STANAG magazine and KAC Rail covers.
Attachments
Edit
The M16A4 can be fitted with the following attachments:
3X scope
Carry handle
M203 Grenade Launcher
Grip
Silencer
Night Vision
Collapsible Stock
Fixed Stock