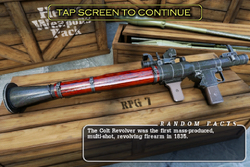 Introduction
Edit
The RPG-7 is a man portable, shoulder-launched anti tank weapon featured in the Gun Club 2
Heavy Weapons Pack
. It uses an 85mm rocket and is the most widely used anti-tank weapon in the world. It has been in use since 1961 and is still in production to this date.
Interactivity
Edit
Manual loading of grenades
Safety switch
Trigger
Usual Gun Club features including Slow Motion and Unlimited Ammo
Gun Club 2 Shooting Range
Edit
The RPG-7 is one of the weapons in Gun Club 2 which features the Gun Club 2 Shooting Range. In the case of the RPG-7, the range consists of a destructible wall on which you have no control of where projectiles hit.